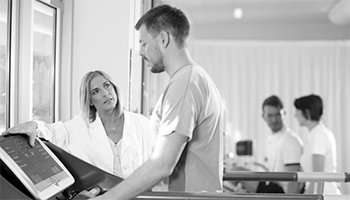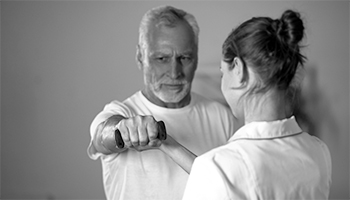 Cardiac Rehabilitation
Patients with a history of cardiac disease can significantly benefit from cardiac rehabilitation (CR). Cardiac rehabilitation is the process by which patients, in partnership with a multidisciplinary team of health professionals, are encouraged to support, achieve and maintain optimal physical and psychosocial health. Partners, family members and carers are also encouraged to participate in the rehabilitation process.
This form of rehab is mainly prescribed to patients with ischaemic heart disease, myocardial infarction, chronic heart failure, after coronary angioplasty, and after coronary-aortic by-pass graft surgery patients. CR usually begins as soon as possible in intensive care units, but only if the patient is in stable medical condition. The aim of CR is to promote secondary prevention and to enhance the quality of life of cardiac patients.
In the CR process, a multidisciplinary team approach is required to achieve the goals of cardiac rehabilitation. The multidisciplinary team members may include:
Cardiologist, Cardio thoracic Surgeon or Physician
Physiotherapist
Dietitian
Psychologist
Social worker
Our cardiac rehabilitation programme consists of four phases, namely:
In-hospital patient period
Post-discharge period
Cardiac Rehabilitation and secondary prevention
Maintenance phase
The team at Nicki Ross are highly trained and have the necessary skills, qualifications and experience to effectively work together with general practitioners, practice nurses, community pharmacists, the sports and leisure industry, and other relevant parties to provide a thorough and holistic approach to treating and managing the symptoms of your heart condition.